Our SPREADING SMILE FUNDRAISER helps you to RAISE MONEY and AWARENESS for important causes while inspiring and celebrating children's creative abilities.
---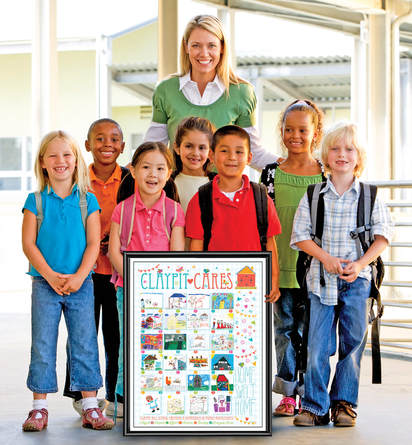 Designed to offer creative and meaningful fundraising opportunities for children in schools and congregations.

You select the cause, children are inspired to create artwork that reflect the theme of the fundraiser, we design a unique, customized collage style poster from the collective artwork, and these are then sold at a fundraising event of your choice. We can also bring in a representative from one of our partner nonprofits to help inspire your children and raise funds for their cause.

Posters, T-shirts, note cards, and other printed products are available.

"It was such a pleasure to work with Sylvia from Perpetuart. She is the best of both worlds. She was so professional to work with and she offers such personal service! She worked closely with my school to create a piece of art that was colorful, individualized and beautiful! I would highly recommend Sylvia to help take your creativity to the next level and create artwork that will bring you joy every time you look at it!"
​Meredith Palmer, Claypit Hill School, Wayland, MA
---
---
PRICING
We work on a per-project basis that is based on the project scope and estimated time commitment. If you have a budget, it's always helpful to let us know and that way we can make recommendations based on what you can afford and advise you the best possible strategy. Our ultimate goal is to partner with you and make your project successful.